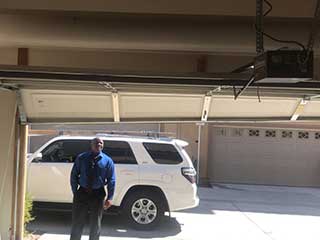 When it comes to garage door service providers, you're presented with a lot of options. However, for a complete peace of mind knowing you're getting the most of your repair, installation, or maintenance, call Garage Door Repair, Boulder, CO. Our list of happy clients is growing by the day and our team would be happy to handle whatever problem you're facing. Here's a snapshot of our services.
Door Installation Services
Whatever make and model you've decided on, it's absolutely vital that your garage door be installed properly. A shoddy installation can not only lead to frustration and costly problems down the road, but it can also compromise the safety and security of your home and family. Once our technicians have completed the installation process, they will also ensure your door is working safely and test the mechanism for optimal efficiency.
Comprehensive Opener Repair Services
A lot of our team's workload revolves around issues surfacing with garage door openers. Homeowners are usually unaware of how crucial the motor is to your system and that it depends on a set of parts to complete multiple cycles every day. If your opener has started making loud noises upon starting, lift the door more slowly than usual, or is showing signs of wear, hire our technicians to repair it before a full-scale replacement is due.
Door Off Track
If your door is having trouble staying on track, have one of our technicians take a look at your mechanism. They will carefully inspect your system and work hard to identify and remedy the fault. Sometimes, the problem will lie in the door itself, and aged models in poor condition will ultimately become irreparable and in need of replacing. In other cases, a simple repair will suffice.
Whatever issue you're facing, we'll make sure your door is operating as it should so that you can lead a trouble-free daily life. Get in touch with us today.

New Opener Remote Controls

Garage Door Tune Up Services

Emergency Release Repair

Garage Door Panel Replacement